Sanlúcar de Barrameda is a beautiful little coastal town in the province of Cadíz, Spain. If you're planning a trip to Sanlúcar it's important to stay in a centrally located neighborhood. Below we'll go over 3 of Sanlúcar's central neighborhoods and some great rentals and hotels you can stay at! Also, if this is your first time visiting, check out my post on how to get to Sanlúcar from Seville or Jerez de la Frontera. For recommendations on fun things to do in town click here.

El Centro
The center of Sanlúcar revolves around the Plaza de Cabildo and Calle Ancha. The Plaza de Cabildo is the main plaza of the city and has some fantastic and authentic restaurants to enjoy! Calle Ancha is the main avenue of Sanlúcar and is full of local shops, bakeries, and businesses. The fresh market (normally located in the plaza next to Cabildo) has been temporarily relocated to the city's Calzada (which is just 1 block from the Plaza de Cabildo) so if you stay in the centro you'll have access to some great fresh and local food too! The center is just a 10 – 15 minute walk to Sanlúcar's beaches.
Bajo de Guía
Bajo de Guía is Sanlúcar de Barrameda's maritime neighborhood; the city's marina and nautical club are located here. Bajo de Guía has got a beautiful little walkway along the beach and some of the best seafood in Andalusia! If you want quick access to the beach this is the place to stay! Bajo de Guía is just a 15 minute walk to the center.
Barrio Alto
Barrio alto ("uptown") is where many of Sanlúcar's bodegas are located. The beautiful Castillo de Santiago, the same castle where Christopher Columbus, Ferdinand Magellan and Queen Isabella have been, is also located in Barrio Alto. A lot of locals live in this neighborhood and there are some great restaurants in uptown too. My favorite characteristic of barrio alto is the old buildings and bodegas; walking around barrio alto and admiring the architecture as you note the smell of wine in the air is quite an experience! Barrio Alto is a 5 – 10 minute walk to the center; this part of town is very hilly so if you're not prepared to walk uphill from the center (it can be quite a workout in summer) then you might be better off staying in the center.
Hotels and rentals in Sanlúcar de Barrameda
Airbnb
Whenever I travel I like to rent local flats instead of staying in a hotel (it's also a good option for groups); with Airbnb you can rent individual rooms in a person's house, entire apartments, condos, and/or houses. There are a lot of great rentals in Sanlúcar, especially our newly renovated flat in the center 😉 I would recommend using Airbnb to look for rentals in the above-mentioned neighborhoods if you want to save money on accommodation.
Hotel Los Helechos
Hotel Los Helechos is located in the center just one block from the beginning of Calle Ancha. The rooms are very basic (don't expect anything luxurious), but the place is clean, in a great location, and has a gorgeous interior patio!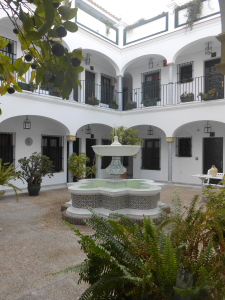 Hotel Alcoba
Hotel Alcoba is a beautiful little hotel located a few streets back from Calle Ancha in the center. The whole place was recently renovated so everything is new and modern looking. There's a great little pool for guests and the owners are very nice; great local place to stay!
These are the main places I recommend to my friends and family because we've had good personal experiences there. If you have any questions about a particular place you're considering staying at feel free to comment below!