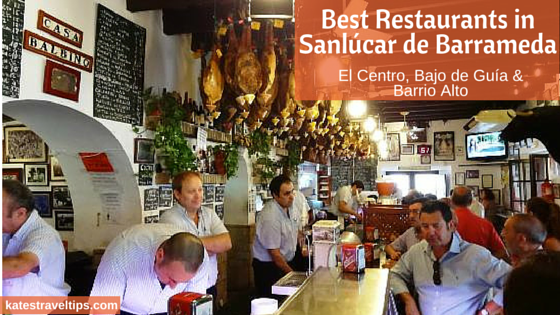 I'll be honest…one of the main reasons I wanted to move back to Sanlúcar de Barrameda from Seville is the food! As a coastal town Sanlúcar is the epitome of what the Mediterranean diet should be; light dishes, lots of olive oil, local veggies, low in red meat, homemade breads, and let's not forget fresh seafood! Order fish at any of the establishments I've listed below and you'll note how fresh the seafood is (with the smaller fish like Acedía if the fish is curled inward at the tail after it's been fried that means it's never been frozen – all fresh baby!). Below you'll find a list of my favorite restaurants in the centro (city center), Bajo de Guía (beach and marina), and Barrio Alto (uptown)  and what I'd recommend ordering at each one.
P.S. Check out my latest post on more great restaurants in town!
El Centro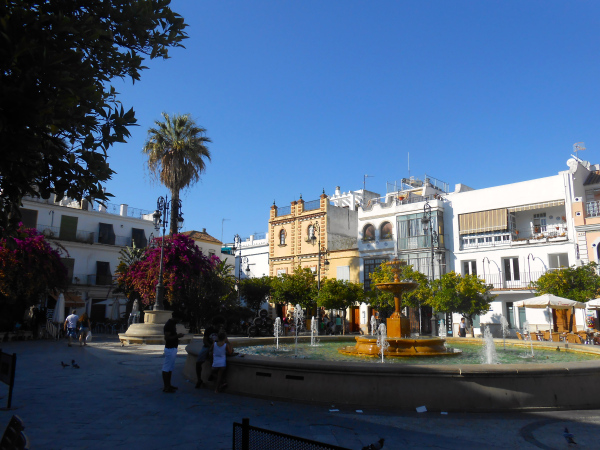 Casa Balbino
Balbino has a reputation far and wide for it's amazing tapas, traditional décor, and serve-yourself approach to dining. In Spring/Summer it's difficult to get a table outside but you might be able to grab a barrel or stand at one of the side tables inside. At this bar you need to go to the counter and tell the waiter what you want; he'll keep a tab for you and bring the tapas to the counter as the come out of the kitchen, you'll grab your tapas from him at the counter and bring them to your table. Any time you want to order something else or ask for the bill you need to remember who your waiter is – he's the only one who's got your tab!
Favorite Tapas:
Pimiemto relleno – stuffed pepper
Choco frito – fried cuttlefish (similar to squid/calamari)
Tortilla de camarones – super famous! fried shrimp pancakes
Gambas con berenjena frita – fried shrimp wrapped in eggplant
Salmorejo – traditional cold tomato soup
Gazpacho – tomato/vegetable drink (hangover cure)
Pudin de atun – tuna pudding
Croquetas caseras – homemade croquettes
Address: Plaza de Cabildo, 14 Sanlucar de Barrameda, 11540 Cadiz, Spain
Barbiana
Barbiana has the best papas aliñas con melva in town! It's a typical dish made with local potatoes, melva (fish that tastes like tuna), onions, olive oil, and parsley. This is the most famous dish of Barbiana but they also have good ensaladilla, croquetas, and choco frito too!
Address: Plaza de Cabildo, 2 Sanlucar de Barrameda, 11540 Cadiz, Spain
Bodegón de Lola
When the Plaza de Cabildo is too crowded and you want some delicious and cheap tapas head to Bodegón de Lola! The owner is actually the daughter of the family that owns Balbino so you get to enjoy some of the same tapas like tortilla de camarones! This place has great food, is full of locals, and offers great prices; bueno, bonito, y barato! Favorite tapas:
Caprichito de Lola
Crujiente de Lola
Pudin de cola de toro
Ensaladilla
Atun con salmorejo
Hamburguesa de Corvina
Patata rellena en salsa de tomate
Address: Calle San Miguel, 4 Sanlúcar de Barrameda, 11540 Cadiz, Spain
Puerta de la Victoria
If you're in the mood for tapas with a modern twist head to Puerta de la Victoria; you'll find classic tapas like papas aliñas and choco frito but they also have new favorites like milhojas de foie and tartar de salmon con aguacate! Make sure to order the biscocho de chocolate; it's a molten chocolate cake served with vanilla icecream!
Favorite tapas:
Milhojas de foie
Croquetas de setas
Salmorejo
Aguacate relleno con gambas
Tartar de Salmon con aguacate
Any of the "barquillos"
Any of the desserts/postres!
Address: Calle de la Victoria, 7 Sanlúcar de Barrameda, 11540 Cadiz, Spain
Casa Perico
Casa Perico never disappoints! You will find fresh seafood, large portions, and great prices! Definitely make sure to stop by during your stay in Sanlúcar!
Favorite tapas:
Pez espada a la plancha
Marrajo a la plancha
Corvina a la plancha
Choco a la plancha
Any of the fried fish or seafood (choco, cazon, marrajo, puntillitas, etc.)
Gambas al ajillo
Address: Calle Salvador Gallardo, 27 Sanlúcar de Barrameda, 11540 Cadiz, Spain
La Lobera
So La Lobera isn't exactly in Bajo de Guía…it's in between the center and the beach. La Lobera offers a fantastic selection of tapas that are sure to please every palate!
Favorite Dishes:
Mini hamburguesa de buey (mini buey burger)
Sushi
Tartar de atún (tuna tartar)
Rissotto de setas y gambas (mushroom + shrimp risotto)
Torre de Babel (I can't explain it…just order it!)
Pulpo a la Gallega (best octopus I've ever had)
Address: Avenida de Cerro Falón, 32 Sanlúcar de Barrameda, Cadíz 11540
Bajo de Guía
Club Nautico
Club Nautico is the perfect place to eat lunch; make sure to get a table upstairs for a great view of Doñana and the beach below. The specialty at Club Nautico is seafood but the meats they offer are delicious as well. I highly recommend choosing any of the fresh fish they have in-house the day you visit. Last time I went we ordered Pargo al horna con pimientos which was absolutely amazing!
Favorite Dishes:
Ensaladilla
Almejas a la marinera
Any of the meat dishes (solomillo, entrecot, etc.)
Corvina a la plancha
Dorada a la sal
Pargo al horno con pimientos
Address: Avenida de Bajo de Guia, 0 Sanlúcar de Barrameda, 11540 Cadiz, Spain
Casa Bigote
I am not exaggerating when I say that Casa Bigote has the best seafood in Cadíz. You can choose between eating at the tapas bar or in the restaurant; if you want to eat in the restaurant you should try to make a reservation upstairs a couple of days in advance as upstairs is always full! The main difference between the tapas bar and the restaurant is the price; you'll find cheaper dishes at the tapas bar but you'll eat your meal standing at a barrel or the counter of the restaurant. Personally, I like eating at the tapas bar and don't mind standing (it's a good way to mingle with locals and check out all the decorations covering the walls of the bar). We usually go to the restaurant for special occasions, as it's a more formal dining environment. Click here for more photos and recommendations at Casa Bigote (it's so good it has it's own post).
Favorite dishes:
Morrajo a la vinagreta
Corvina en salsa tartara
Hamburguesas de Bacalao al queso
Carpaccio de gambas blancas
Atun mechado
Address: Calle Portico Bajoe de Guia, 10 Sanlúcar de Barrameda, 11540 Cadiz, Spain
Barrio Alto
El Espejo Gastrobar
A very talented chef has finally taken over El Espejo Gastrobar and has returned it to it's former glory! He's just released a new menu with fantastic items to choose from; if you're interested in trying a modern take on tapas then make sure to stop by Espejo! We always make a reservation on the weekends because the restaurant tends to be full during the summer months. The restaurant is located just a few blocks from Nuestra Señora de la O (famous church in Barrio Alto) and the Castillo de Santiago.
Favorite dishes:
Croquetas de jamón y pollo (chicken/ham croquettes)
Bacalao confitado con patatas y ajo negro (white fish with potato puree and black garlic)
Hamburguesa de ternera con patatas (hamburger with potatoes)
Ravioli de carrillera ibérica con manzana asada (Beef ravioli  with grilled apples)
Coulant de choco crema de cacahuete y toffe con helado de caramelo (AMAZING!!!! Chocolate + peanut butter lava cake)
Address: Calle Caballeros 11 Sanlúcar de Barrameda, Cadiz 11540
Take this article with you when you travel – click here to save to mobile device