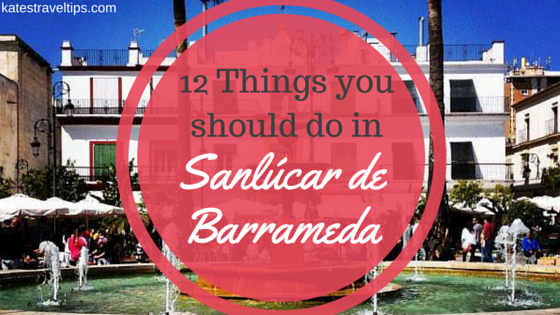 Did you know Sanlúcar de Barrameda was the departure point of Christopher Columbus, Ferdinand Magellan and several Spanish conquistadores? This little town is full of interesting history, great food and some beautiful sights! The next time you visit Sanlúcar make sure to check the following places and activities off your list!  If you've got any suggestions on other activities in town to add to my list leave a comment below! Si se te ocurre alguna actividad más que debería añadir a mi lista de cosas que hacer en Sanlúcar, no dudes en dejarme tu sugerencia en los comentarios de abajo!
Psssst giveaway time! Love Sanlúcar as much as I do? Download the app and get my Sanlúcar guide on GPSmycity for free right now!  
1. See the Plaza de Cabildo and Calle Ancha
The Plaza de Cabildo is one of my favorite places in town; apart from the fact that it features a mosaic stone floor and beautiful fountain, the plaza is also lined with great restaurants to check out! Calle Ancha is the main avenue in town and connects to the plaza; both sides of the street are lined with local shops, bakeries, restaurants and pharmacies. Calle Ancha is also my favorite area to eat breakfast! There are tons of places to choose from; order a zumo de naranja natural and media tostada con jamon, aceite y tomate aka fresh squeezed orange juice, toast with spanish ham, oil and tomato puree! On most afternoons and weekends (especially in summer) you'll see locals strolling up and down Calle Ancha, running errands, enjoying a meal or sipping on wine as they watch the hustle and bustle of the city centre.
2. Visit the Mercado de Abastos
The fresh market not might be a big deal to the locals…but I love it! If you want to get fresh fruit, veggies, seafood and meat this is the place to go. It's open from 8am to 2pm every day except Sundays (I've heard it opens at 5am too…I never get there before 8 am however). Sometimes they increase the prices on the weekends (during summer when there are lots of visitors from other Spanish towns) so I'd recommend going on a weekday. The fresh market used to be located near Plaza San Roque, however it's currently under construction so the city has built a temporary structure to house all the vendors (on the Calzada); it's not as pretty as the old market but you'll still find plenty of fresh food and great prices!
3. Walk along the Paseo Marítimo
If you walk all the way down the Calzada (open walking area) from the center, you'll eventually find yourself at the paseo marítimo. The paseo is a walkway along Sanlucar's beaches and ends at Bajo de Guía (explained below). I love walking along the paseo in the evenings; you can watch the sunset over the water and enjoy the view of all the boats anchored just off the beach. My hometown in Florida is famous for having beautiful sunsets on the water, but Sanlúcar de Barrameda certainly rivals its beauty!
4. Check out Bajo de Guía
Bajo de Guía is Sanúcar's maritime neighbourhood; it's where you'll find the nautical club along with some fantastic seafood restaurants and cool bars! Definitely stop by this area while you're in town and check out the old ice factory (now the new visitors center); there's an exhibition on Doñana National Park along with some interesting replicas of archaeological items found at the site (rumored to be the location of the legendary Atlantis). It's free to check out the exhibit and you can get more information on available tours and excursions to the park.
5. Visit Doñana National Park
Doñana National Park is one of the most important wetland reserves in Europe. The park is a favorite spot for many bird watchers and it's known for housing a variety of wildlife like lynxes, deer, wild boars, etc. You can visit the park with a guided tour or take a ferry in Bajo de Guía (costs 6€) and cross the Guadalquivir River to Doñana's beach. You're allowed to enjoy the beaches of the park, but to go inland you must be part of a tour.
6. Visit the Castillo de Santiago
The castle was originally built in the late 1400's to defend the city of Sanlúcar and the mouth of the Guadalquivir River (the second longest river in Spain). Isabel the Catholic saw the sea for the first time from the castle's tower, and the likes of Columbus and Magellan have been there too. You can take guided tours in the castle with companies like Sanlúcar Smile or do a self-guided tour (available Monday through Sunday 10:15am – 3pm and 7:15pm to 9:30pm). The guided tour should include access to the museum, which contains clothing from the 18th, 19th and early 20th century. I've never taken a guided tour in the castle but I have eaten at El Castillo restaurant; if you've got time I would recommend stopping by there for a bite!
7. See the Medina Sidonia Palace
This palace was originally built in the 12th century and houses a historical archive with 6 million documents. There are also beautiful gardens in the interior courtyard of the palace; if you're not able to take a tour (tours are only available on Sundays at 11am and 12pm) you should stop by the palace's coffee shop (open all week from 9am – 9pm, Mondays and Tuesdays it's closed from 1 – 4pm) and enjoy a cafe con leche with a view of the gardens and interior courtyard.
8. Visit the churches of Sanlúcar de Barrameda
Like most Spanish cities, Sanlúcar is full of Catholic churches! Nuestra Señora de la O in Barrio Alto is one of the most important churches in the area; it was founded in 1360 and features Mudejar style architecture. The Ermita de Nuestra Señora del Carmen (1896) in Bajo de Guia is another one of my favorites because of its unique interior; the inside of the chapel is completely covered in a huge fresco painting of local Sanluqueños and fisherman (the Virgin Carmen is the patron virgin of fisherman in all of Spain). You'll come across beautiful churches as you explore the city and I encourage you to go inside each one and take a look!
9. Enjoy the rooftop view from Hotel Guadalquivir
The Hotel Guadalquivir is the tallest building in Sanlúcar de Barrameda and that means it also has some of the best views in the area. Go into the lobby of the hotel and take the elevator to the rooftop bar, order some Moroccan tea (té moruno) and enjoy the view.
10. Visit a local winery in Sanlúcar de Barrameda
You can't visit Sanlúcar without doing a wine or sherry tour! There are several bodegas (wineries) located in and around Sanlúcar where you can take a tour and learn how the famous manzanilla is made. This blog post has useful information about tours available at Bodegas Delgado Zuleta, Bodegas Barbadillo and Bodegas Hidalgo La Gitana. Personally, I've attended several tours at Bodegas Argüeso in Barrio Alto; this bodegas has daily tours available and Argüeso makes one of my favorite wines…Viña del Carmen!
11. Eat like the locals
Sanlúcar is well known throughout Spain for its delicious food. The famous prawns or langostinos are a local delicacy and definitely worth a try (they can be quite expensive though so ask about prices before ordering). You can enjoy all sorts of local and fresh seafood as well as traditional tapas here. Check out my blog posts on the most popular restaurants in Sanlúcar as well as some of the newest restaurants to try in town.
12. Attend some cultural events and fiestas!
There are all kinds of events going on year-round in Sanlúcar; three of my favorites are feria, the horse races and the Ruta del Mosto. Before visiting the city check out the local tourism site to see if anything is going on when you plan to visit.
Take this article with you for your next visit – save to mobile device