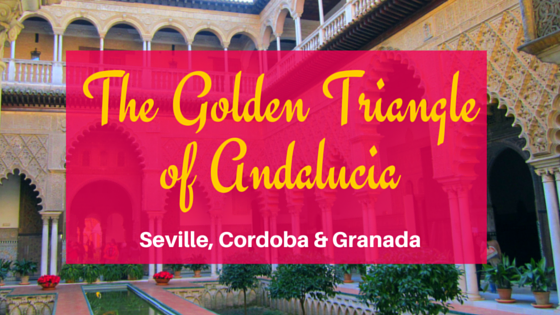 No trip to Spain is complete without visiting the Golden Triangle of Andalucía; Seville, Cordoba and Granada. The Moors occupied Spain for hundreds of years and their mark on Spanish history can be seen through several Mudejar structures still standing today (especially in Andalucía and Aragon). Mudejar is a style of Iberian architecture and decoration influenced by Moorish taste and workmanship—the Alhambra in Granada, Alcazar in Seville and Cathedral in Cordoba are all examples of this unique architecture style. The Moors began occupying Spain in 711 AD, so you can imagine just how much history there is to be seen within the points of the Golden Triangle of Andalucía!
Traveling to the Golden Triangle of Andalucía
Luckily, the points of the Golden Triangle of Andalucía are all connected by trains; I would recommend purchasing your tickets ahead of time online from Renfe.com. It's only 45 minutes from Seville to Cordoba and an hour or so from Cordoba to Granada. You can also get a rental car at most airports and drive. Keep in mind parking is usually a pain in these cities because of their tiny cobbled streets…but you can usually find lots of paid parking options in the city center. The highways in Spain are similar to the ones we have in the US with large lanes, toll stops, etc. Just be prepared to drive through a lot of roundabouts. If you're traveling from Madrid I'd recommend heading to Cordoba first and stay the night (it's the closest city by train/driving), from there it's a short distance to either Seville or Granada. Keep in mind you may need to secure your international driver's license ahead of time.
How many days should you spend in Seville, Cordoba and Granada?
If you have limited days to spend in Andalucía I would recommend you stay at least two nights in Seville, one night in Cordoba and three nights in Granada. Seville has several attractions to see; you can squeeze them all into one day but I would allow yourself two days if possible (weekend getaway anyone?!). The Alhambra will take almost an entire day to see so plan to spend at least two nights in Granada. Cordoba is a small city; if you're short on time you could just pass through for a few hours on your way to Granada or Seville. I'd suggest staying for at least one night—and maybe more if you're visiting Cordoba in early May.
You'll want to find a hotel or use Airbnb to find accommodation near the "casco antiguo" of Cordoba, Seville and Granada. Casco antiguo and casco viejo translate to "historic district", i.e. the area closest to all the attractions you plan to visit!
The main attractions of Spain's Golden Triangle 
In Seville and Cordoba you shouldn't have an issue buying tickets at each attraction (like the Cathedral, Alcazar, etc.) but you should definitely try to get your tickets ahead of time if you want to visit the Alhambra in Granada. You might be able to get tickets at the Alhambra's ticket office, but this involves an extremely long line (it's suggested you show up before 8am to improve your chances) and you can only buy tickets for that day, not in advance. There are over 3 million visitors to the Alhambra each year and only a certain amount of people are allowed to visit at a time; your tickets will have a specific time slot you can see the Nasrid Palaces so be sure to pay attention to this detail when purchasing your tickets. Check out my post "Weekend Getaway to Granada" for more tips on visiting Granada and the Alhambra!
Of all the places I've visited in Spain these three cities are my favorite; they're gorgeous, full of history, have great shopping options and you can't beat affordable Spanish food and wine! If it's your first time in Spain you've got to put "The Golden Triangle of Andalucía" on your list of things to do!