This weekend I had the opportunity to attend Pasarela Flamenca Jerez, the city's largest flamenco fashion event of the year. People from all over Spain were in attendance, including prominent flamenco fashion bloggers, musicians and Spanish celebrities. The Pasarela Flamenco Jerez is the perfect way to stay on top of this year's hottest trends and ensure you look your best for the upcoming feria season.
About the event
The Pasarela Flamenca Jerez is hosted at the beautiful González Byass Bodega, home to the famous Tio Pepe sherry (Jerez's star product). The event consists of two main sections; you'll find an exhibition area where you can visit all the designers and product stands featured in the fashion shows. The other area of the event is where the fashion shows take place. You can access the exhibition area for free, but you'll need a ticket to gain access to the shows. Once you've decided which designers you want to see you can purchase your ticket for their scheduled show time; tickets cost €5 per person, per show.
There are several ways to get fashion show tickets;
You can purchase tickets ahead of time at designated shops in Jerez, Sanlúcar and Puerto de Santa María.
You can call to reserve tickets and pick them up before the show (see website for phone number)—keep in mind you must pick up your tickets 45 minutes beforehand (there are usually lines at the ticket booth so get there early).
You can purchase tickets on the day of the fashion show you want to attend, but keep in mind they might sell out!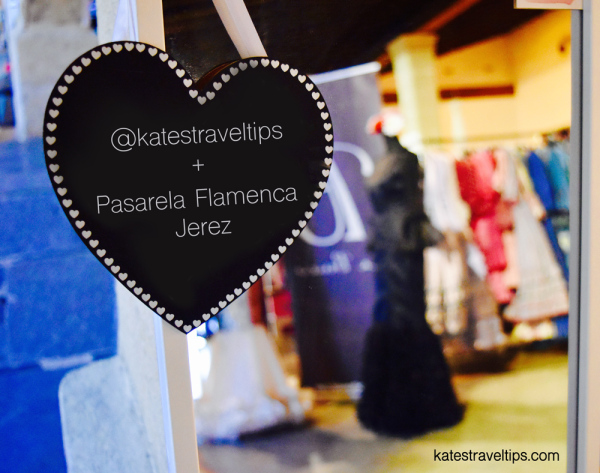 Exhibition stands
The shop and designer exhibition is not to be missed. You'll find one-of-a-kind accessories like decorative vests embellished with hand-sewn designs and fringe, as well as gorgeous jewelry and combs…not to mention tons of flamenco dresses! Check out some of my favorite new brands and shops I discovered at the event.
Ãfrica Camacho
I loved Ãfrica Camacho's flower headpieces, mantones (decorate shawls) and chalequillos (vests)…basically anything with flecos or fringe catches my eyes these days. Apart from being the perfect flamenco dress accessory, these items would also make beautiful statement pieces for any outfit in spring and summer.
Artepeinas
I was so excited to discover Artepeinas—I've never seen jewelry or flamenco accessories quite like the ones they had on display at the event. All of items are handmade, and despite their large size, they're actually super light-weight. I've been struggling with my traditional feria style earrings for years (after a few hours the heavy earrings start to get uncomfortable)—so finding something that looks good and won't weigh you down is a godsend! Earrings and large combs (peinetas) cost €50 and while small combs (peinecillos) cost €25.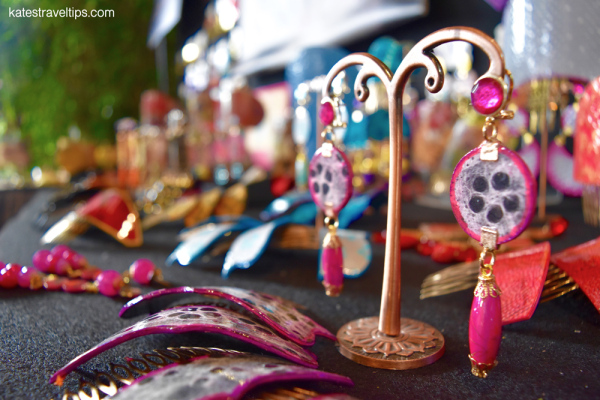 Fina Estampa Complementos
Fina Estampa specializes in handmade, enamel jewelry with a flamenco flair. You can also purchase their products online from the website linked above. They had beautiful floral crowns and unique headpieces that will be sure to turn heads at this year's feria.
Flamenco fashion in action
I really enjoyed watching the models strut down the runway to the tune of live flamenco music. Some of the models even performed in their dresses! Spanish women look to these fashion shows to stay on top of the latest trends for the upcoming feria season. Don't forget, feria is biggest event of the year in cities all over Andalusia…so you've got to make sure to look your best! I attended three designer's shows at Pasarela Flamenca Jerez—De Lunares y Volantes, Rocío Martín, and La Tate Flamenco. Read my post about fashion show highlights from the event.