Did you know you can take a 30 – 40 minute ferry from Tarifa, Spain to Tangier, Morocco? If you're visiting Southern Spain you might as well see Morocco too – it's so close there's no excuse not to go! I first traveled to Morocco with Discover Excursions  in 2012 (Tangier, Teuton, Chefchaouen), again in 2013 with my family (Tangier, Asilah), and most recently in December 2016 (Rabat, Meknes, Merzouga/Sahara Desert).
Quick tips for visiting Northern Morocco
Never drink the water! Don't even eat fresh vegetables or fruit that have been cleaned with tap water. Remember to use bottled water when you brush your teeth too. If you drink the water in Morocco expect to have several emergency bathroom breaks during your trip – and keep in mind they don't use toilet paper.
Speaking of toilets…bring tissues with you; in most restaurants and shops the bathrooms are a hole in the ground with a bucket of water
I've always visited Morocco in fall/winter and the weather was great; not too cold and not too hot – I'd recommend visiting during this time of year
Learn how to haggle in the market; merchants raise prices on items with the expectation that you'll try to talk them down, so don't be shy! I usually start off offering half price of what they're asking and then we meet somewhere in the middle. Also if you're purchasing more than one item ask them what kind of deal they can give you for buying more than one item (like at the Grand Bazaar in Istanbul).
If you speak a language other than English use it at the market  – foreigners (especially Americans) are assumed to be easy targets for over-charging so they'll try to give you the highest price possible
In most places you can pay with Euros and other currencies – you can usually find ATMs and currency exchange centers around the markets too
Women should dress modestly; foreign women aren't required or expected to wear head coverings but it would be considered inappropriate to wear revealing clothing (short shorts, skirts, low-cut tops, etc.) by locals.
How to take a ferry from Spain to Morocco
From Sanlúcar the closest port cities with ferries to Morocco are Tarifa and Algeciras. I've crossed from Tangier twice and from Algeciras once (because the water was too turbulent in Tarifa). I'd recommend going from Tarifa if possible because the ferry from Algeciras takes to you Tanger-Med, which is located outside the city center. Luckily the ferry company organized a bus to bring us to the center of Tangier and from there we could walk to our hotel. We purchased our ferry tickets (the same day) at the port in Tarifa at the ticket kiosk inside; you can also reserve your tickets online ahead of time. Ticket prices are about €35 each way and leave every odd hour from 9am to 9pm. We just showed up, parked our car in the port's parking lot, purchased our tickets, boarded the boat and crossed! Keep in mind you'll need your passport and if you get seasick easily you may want to grab a spot by the railing on the boat's deck!
3 Beautiful cities you need to see in Morocco
Tangier
Tangier was my first Moroccan experience. Our hotel was conveniently located next to the port and was within walking distance of everything. If you're able to visit Tangier with a guided group I would recommend it, but traveling with a partner or small group is also manageable. The locals we encountered were nice but are also very thrifty; if you're haggling try to do it in another language (ex. I spoke Spanish with the shopkeepers) – if they know you're American they'll assume you're an easy target for over-charging on items in the market! While you're in Tangier be sure to check out the following sites:
Kasbah – the old fortress of the city and where the sultan used to live!
Medina (Old City) – a labyrinth of small streets, beautiful old doors/buildings, and interesting shops
Markets – you'll find spice markets and curious little shops with cute trinkets in the medina (also beautiful Moroccan tea sets!)
Drink mint tea (Moroccan Tea) at Cafe Hafa – Michael Jackson, Mick Jagger, Jimi Hendrix, Tennessee Williams, Paul Bowles and more have done the very same thing! 🙂
There are some cool places to see just outside of Tangier, read my recommendations on Asilah below for more info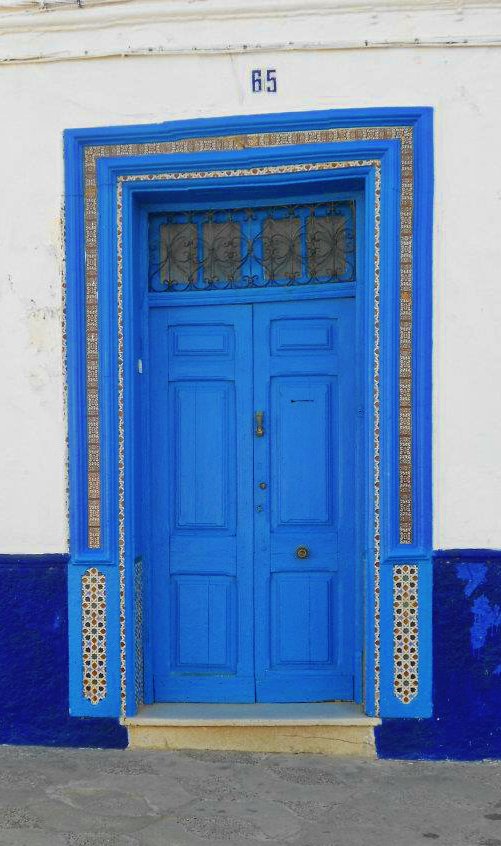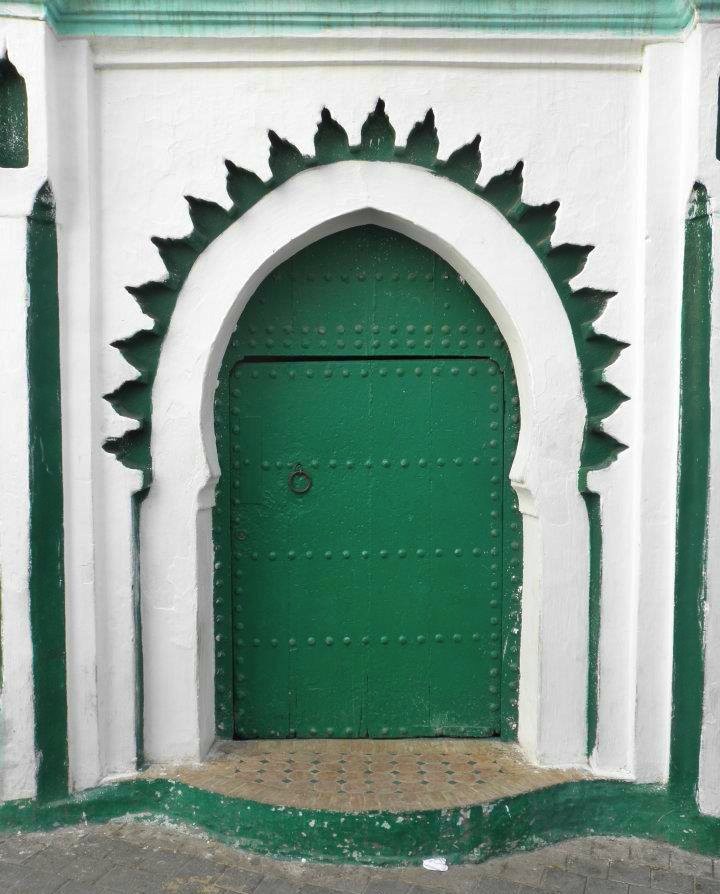 Asilah
When I went with my family to Morocco we decided to take a taxi from Tangier for a day trip to Asilah. The taxi driver only charged us 40 Euros for the hour drive to Asilah and back (he also waited for us in Asilah while we explored the town)! If you want to make this trip be sure to discuss the price with the taxi driver before you leave. On the way to Asilah we also stopped by the Cave of Hercules, Cap Spartel and rode some camels (the taxi driver clearly knew the camel guys so he probably got a cut of what we paid – but it was a cool experiences nonetheless). Legend says Hercules slept in "The Cave of Hercules" before his 11th labour, which was to get golden apples from the Hesperides Garden. Cap Spartel is the most North Western point of mainland Africa and marks the boundary where the Mediterranean Sea meets the Atlantic Ocean.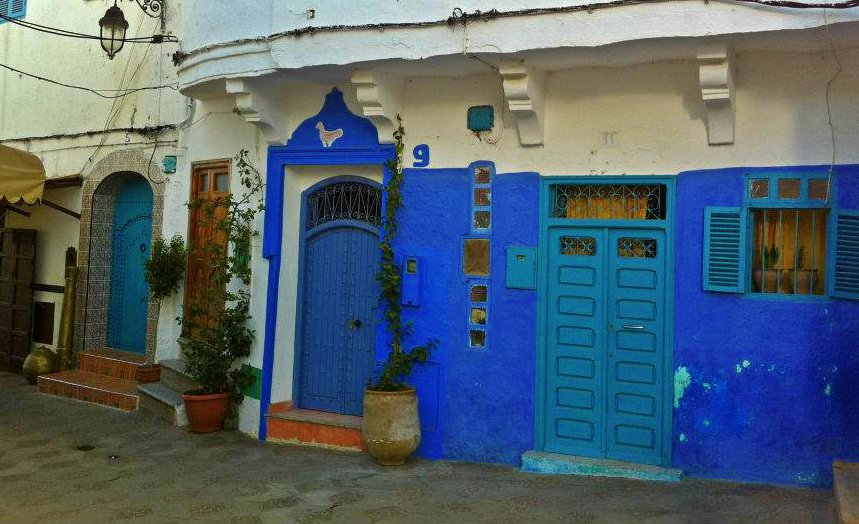 Chefchaouen
I went on a guided tour the first time I traveled to Morocco; one of the stops on this tour was the beautiful city of Chefchaouen (about a 2 hour drive from Tangier). Chaouen is a famous Moroccan town because all the buildings are painted bright blue (no one knows the real reason why – best reason I heard was because mosquitos don't like blue). We drank tea at a charming teahouse in the center, purchased some gorgeous hand-woven blankets, beautiful silver jewelry and I paid a local women to draw a traditional henna tattoo on my hand. It was definitely a city of firsts and fun memories and I would definitely recommend adding it to your list of stops in Morocco!